French Peach Ice Cream with Raspberry Coulis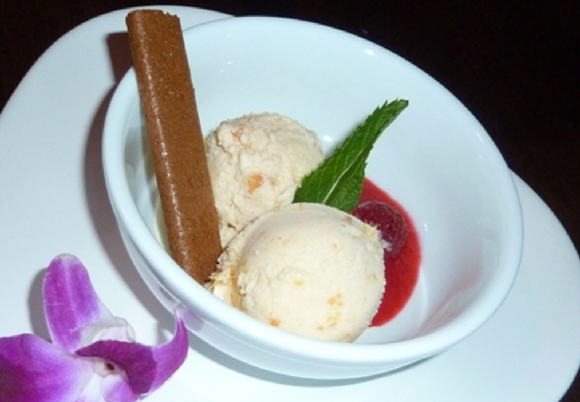 — Makes about 1 quart
Recipe courtesy of Luisa's Catering
French style ice cream is made with a custard base that includes eggs. It is richer than regular ice cream and with peaches in season it's the perfect summer treat.
*Items marked in green are available from The Gourmet Corner.
Custard Base
5 large egg yolks
3/4 cup granulated sugar
1 1/2 cups whole milk
1 cup heavy cream
1 vanilla bean, split in half lengthwise
Whisk the egg yolks with the sugar until thick and pale. In the meantime, heat the milk, cream and vanilla bean until steam rises. Let vanilla steep for 15 minutes.
Remove the vanilla bean, making sure to scrape the pod and add to the hot cream mixture. Very gradually add the hot cream to the egg yolks, whisking constantly to prevent them from scrambling. Pour the mixture back into the saucepan and cook over medium heat until the cream coats the back of a spoon, 5 to 8 minutes.
Strain the custard through a fine mesh sieve, and let cool completely. Refrigerate at least 2 hours up to overnight.
Peaches
2 cups fresh ripe peaches, skinned, pitted and diced
1/4 cup granulated sugar
1 tsp fresh lemon juice
Macerate the diced peaches with the lemon juice and sugar for about 10 minutes or until syrupy. Stir the peaches and their juice into the custard base.
Freezing the Ice Cream
If you have an ice cream maker:
Churn the mixture in an ice cream maker according to manufacturer's instructions. Transfer to a container and freeze until firm.
Directions if you don't have an ice cream maker:
Put ice cream mixture in a deep baking dish, or bowl made of plastic, stainless steel or something durable in the freezer, and place in freezer. After forty-five minutes, open the door and check it. As it has started to freeze near the edges, remove it from the freezer and stir it vigorously with a spatula or whisk. If you have one, you can use a hand-held mixer for best results, or use a stick-blender. Really beat it up and break up any frozen sections. Return to freezer.
Continue to check and beat the mixture every 30 minutes, until it is frozen. It will take 2-3 hours to freeze.
Transfer the ice cream to a covered storage container until ready to serve.
Raspberry Coulis
1 pint fresh raspberries
3 to 4 Tbs sugar
fresh lemon juice to taste
Place the raspberries and sugar in the bowl of a food processor and puree until smooth, about 1 1/2 minutes. Remove from the processor and strain through a fine-mesh sieve into a clean nonreactive mixing bowl. Use immediately or refrigerate in a tightly-sealed container until ready to use. Will keep for 2 days
Plating
Peach ice cream
Raspberry coulis
"Les Gavottes" french crepe cookies
Pour a little raspberry coulis in the bottom of a dessert bowl. Place two scoops of ice cream on top. Garnish with a fresh raspberry, sprig of mint and a crepe cookie.
Tags: coulis, ice cream, peaches, raspberries