Truffled Shellfish Bisque with Pan-Seared Scallops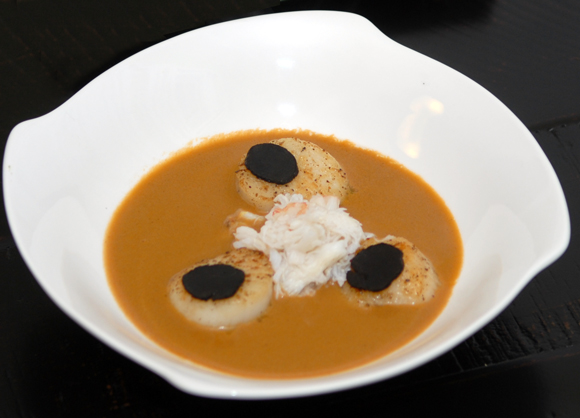 A very easy recipe for a very elegant entrée.
— 4 servings
*Items marked in green are available from The Gourmet Corner.
Ingredients
1 jar Perard du Touqet lobster soup
12 sea scallops
4 oz Dungeness crab meat
1 black truffle
1/2 cup heavy cream
1 Tb olive oil
Cut the truffle in half. Slice one half of the truffle into 12 very thin slices, and finely mince the other half.
In a small saucepan, combine the lobster soup, the heavy cream and the minced truffle, and bring to a simmer over a low heat.
Add the olive oil to a heavy skillet, and heat over a moderately high heat until the oil is hot but not smoking. Salt and pepper the scallops, and then add them to the skillet. Cook until one side is golden brown (about 2-3 minutes), then flip each scallop over and cook for another minute.
Arrange 1 oz of crab meat in the center of four shallow soup bowls. Arrange three scallops around each mound of crab meat, and place a slice of black truffle on top of each scallop. Carefully ladle the soup around the scallops so as not to cover the scallops and crab meat, and serve.
Tags: bisque, crab, scallops, shellfish