Figs with Fromage Frais and Lavender Honey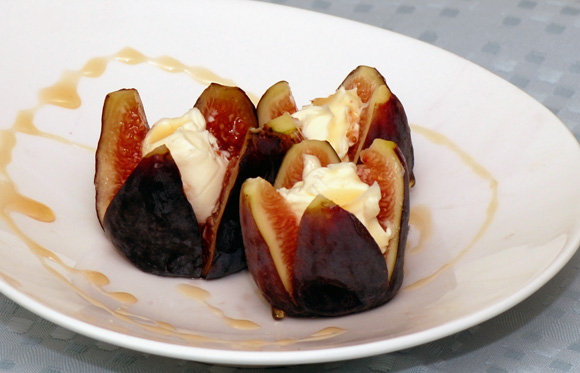 Late Summer figs have a richer, more concentrated flavor than the Spring crop, almost jam-like. Unfortunately their season lasts only a few weeks. Fromage frais accentuates their ruby-pink sweetness, and a drizzle of lavender honey adds subtle floral notes. Such an uncomplicated dessert to make, but the ingredients blend together to produce a sophisticated whole. Black mission figs work best for this recipe. Almond Sables would make a delicious, crisp accompaniment.
— 4 servings
*Items marked in green are available from The Gourmet Corner.
Ingredients
12 ripe black figs
1 tub (approx 7 oz)

Fromage Frais

French lavender honey
Instructions
Wash and pat the figs dry. Cut off the stems, then cut a deep cross in each fig from the top down, but not so far down that the fig is cut in half.
Gently pinch the bottom of each fig until the cut sections spread apart a little (don't pinch too hard or the fig may fall apart!), then place a small spoonful of fromage frais in the center. Arrange 3 figs on each of four small plates.
Just before serving, drizzle the stuffed figs with the honey.
Tags: figs, fromage frais, honey, mascarpone