Hazelnut Torte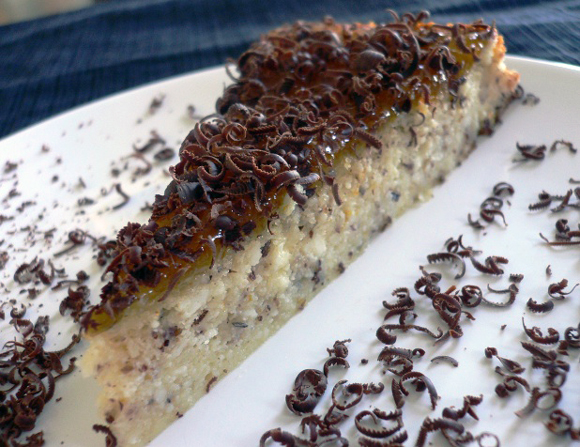 — One 11-inch torte
Recipe courtesy of Luisa's Catering
This is a very delicious moist cake with a texture that is slightly crunchy from the hazelnuts. The jam and shaved chocolate on top give it a great extra punch and the fromage frais adds just a little tang.
*Items marked in green are available from The Gourmet Corner.
Ingredients
4 oz Échiré unsalted butter, softened to room temperature, plus extra for cake pan
3/4 cup hazelnut flour
3/4 cup sugar
4 large free-range or organic eggs, separated
zest of 1 orange, finely grated
2 Tbs all purpose flour, sifted
3/4 cup fresh whole milk ricotta cheese
Pinch of kosher salt
4 heaped Tbs Maison de Choix apricot preserves
4 Tbs Valrhona Guanaja chocolate (70%), finely grated
Fromage frais
Directions
Preheat the oven to 375°F. Butter an 11 inch loose-bottomed flan tin or cheesecake mould, line it with parchment paper and place it in the fridge.
In an electric stand mixer with the whisk attachment, whip the egg whites with a pinch of salt until they are really stiff. Transfer to another bowl. In the same stand mixer bowl, add the butter and sugar together and mix until pale. Add the egg yolks one by one, and the orange zest. Stop the mixer and add the flour, ricotta and hazelnut flour. Stir with wooden spoon until combined.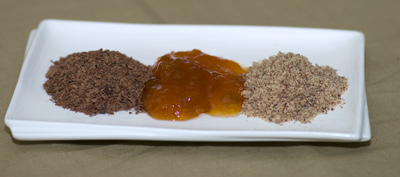 Shaved chocolate, apricot jam, and hazelnut flour:
Luscious ingredients combine in a delicious torte!
Fold the egg whites slowly into the hazelnut mixture. Pour the mixture into the prepared cake pan and bake in the preheated oven for around 25 minutes, until there is a little color on the top of the torte.
Remove from the oven and allow torte to cool. Brush or spoon the apricot jam over the top of the torte and, when cool, sprinkle with the grated chocolate. Serve with a little dollop of fromage frais on the side.
Tags: chocolate, fromage frais, hazelnuts, tortes