Reine de Saba (Queen of Sheba) Torte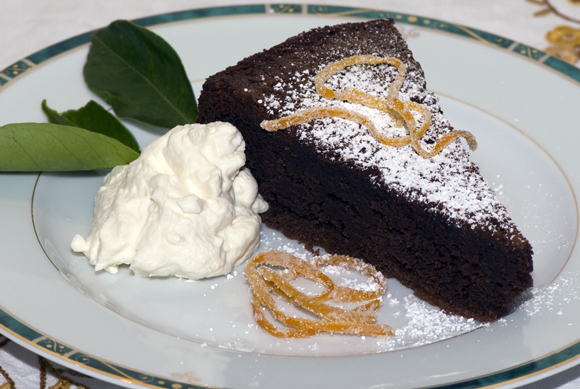 — Serves 10-12
Serve this almost flourless torte with a dollop of orange-scented whipped cream to accent its deep chocolate flavor. Because chocolate is one of the primary ingredients of this simple torte, it's crucial to use good chocolate with at least 60% cocoa solids. Using calets (flat 'dots' of chocolate) ensures the chocolate melts smoothly and avoids getting chocolate fragments all over the kitchen from chopping it.
*Items marked in green are available from The Gourmet Corner.
Ingredients
8 ounces bittersweet 64% chocolate

(Cacao Noel Royale calets)*

or other bittersweet chocolate (chopped, if not using calets)
8 oz

Échiré unsalted butter

4 Tbs brandy
1/8 tsp almond extract
1/8 tsp salt
2/3 cup

almond flour (poudre d'amandes)

5 Tbs all-purpose flour
5 large eggs, separated
1 cup sugar
1/8 tsp cream of tartar
Baking the Torte
Position rack in the lower third of the oven. Preheat the oven to 375 °F. Line a 9″ springform pan with parchment paper.
Place chocolate and butter in a microwave-safe bowl. Melt on medium power, approximately 2 minutes (be careful not to overheat or the chocolate can burn). If a microwave isn't available, melt chocolate and butter in a heatproof bowl in a skillet of barely simmering water. Stir occasionally until nearly melted. Remove from heat and stir completely smooth. Stir in brandy, almond extract and salt. Set aside.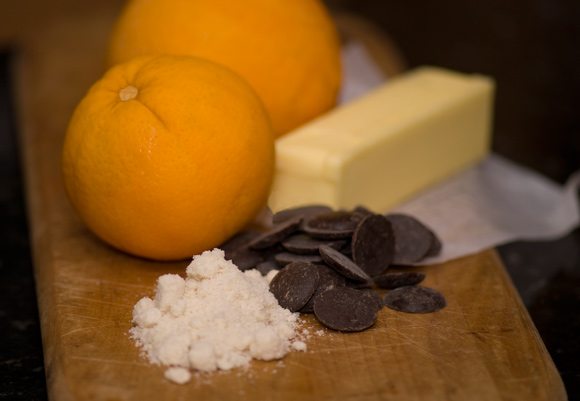 Whisk the almond flour and all-purpose flour together until well blended. Set aside.
In a large bowl, whisk the egg yolks with 1/2 cup sugar until pale and thickened. Stir in the chocolate mixture, then the almond mixture. Set aside.
In a clean dry bowl, with an electric mixer, beat the egg whites and cream of tartar at medium speed until soft peaks form when the beaters are lifted. Gradually sprinkle in the remaining 1/2 cup sugar and beat at high speed until the peaks are stiff but not dry.
Using a rubber spatula, fold one-quarter of the egg whites into the chocolate batter (this lightens the batter enough to smoothly incorporate the rest of the egg whites). Scrape the remaining egg whites onto the batter and fold in. Spread the batter in the prepared pan.
Bake for 40-45 minutes, or until a toothpick inserted inserted in the center is shows moist crumbs (when in doubt, under-bake — the torte will be somewhat fudgier in texture).
Set the pan on a rack to cool completely. The cooled torte can be covered tightly with plastic wrap in the pan, or removed from the pan and wrapped well, and stored at room temperature up to 3 days or frozen for up to 3 months.
Serving
Cooled torte
Orange-scented whipped cream (recipe follows)
Powdered sugar
Crystallized orange peel for garnishing (optional)
If the tote has been refrigerated, allow it to come to room temperature before serving.
Gently run a slim knife around the inside of the pan to loosen the torte. Remove the pan sides, then invert the torte onto the serving platter.
Using a fine-mesh sieve, sift a little powdered sugar over the top of the cake before serving. Serve each slice with a dollop of orange-scented whipped cream.
Orange-Scented Whipped Cream
1 cup heavy cream, very cold
2 Tbs powdered sugar
1 tsp

orange flower water

, or to taste
Whisk cream until slightly thickened. Sprinkle in sugar and orange flower water. Continue whisking until the cream holds peaks.
Tags: almond, chocolate, cream, tortes