Almond Tart with Fresh Berries or Figs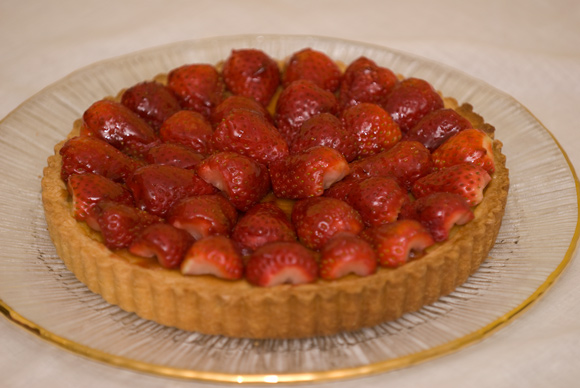 — one 9-inch tart
This tart is ambrosial when made with perfectly-ripe strawberries — the berries should be crimson all over, with no white 'shoulders'. If strawberries are not in season, it is equally delicious made with raspberries, blackberries, or sliced figs.
European-style butter has a lower water content than American butter, producing a delicately crisp, flakier crust. It makes a big (and delicious) difference!
*Ingredients marked in green are available from The Gourmet Corner.
Pâte Sucrée
1 large egg yolk
2 Tbs cream or half-and-half
1½ cups unbleached all-purpose flour
¾ cup confectioner's sugar
Pinch salt
10 Tbs (5 oz) cold Échiré unsalted butter, cut into ¼-inch slices
Whisk egg yolk and cream together.
Combine dry ingredients in a food processor until completely blended.
Sprinkle butter slices over dry mixture and process until it looks like coarse meal, approximately 20 seconds.
Pour egg mix over flour mixture and process just until it forms a dough. Pat into a flat 6″ disc, place in a plastic bag, and refrigerate for 1 hour or more (can stay refrigerated for up to 2 days).
Roll dough out to a 12″ circle on a lightly floured board. Transfer into 9″ tart pan with a removable bottom and gently press into pan (if the tart pan is not nonstick, it will need to be lightly buttered). Chill lined tart pan in the freezer for 20 minutes, or refrigerate for 1 hour.
Almond Filling
1⅓ cups almond flour (poudre d'amandes)*
½ cup sugar
¼ tsp salt
2 large eggs
1½ tsp almond extract
2 tsp vanilla
8 Tbs (4 oz.) Échiré unsalted butter, room temperature
Combine dry ingredients in food processor until completely blended.
Add eggs one at a time, processing until smooth after each egg.
Add extracts and process again until smooth.
Chop the butter up and add strew hunks of it over the surface of the almond mixture. Process again until completely smooth.
Baking the Tart
Preheat oven to 350 °F.
Place chilled tart shell on a rimmed baking sheet. Spread filling evenly in shell.
Bake 40-50 minutes until lightly browned and barely firm to the touch. Cool completely.
Remove side ring from tart pan. Carefully ease a metal spatula between the tart and pan bottom and gently slide the tart from the pan bottom onto the serving platter.
Assembling and Glazing the Tart
6 cups ripe berries/figs, as close to uniform size as possible. If using strawberries, hull and core them right before using.
¼ cup Maison de Choix Mixed Berry Preserves
Press the preserves through a fine-mesh sieve to remove seeds.
Place the preserves in a small microwave-safe bowl; microwave on medium-low power for 30 seconds or until just warm enough to thin out a bit.
Use pastry brush to apply a thin coat of glaze to the top of the tart.
Apply the fruit:
Strawberries
Small strawberries ( ~ 1 inch tall) they can be used whole. Larger ones need to be cut in half vertically.
If using whole berries: starting at the outside edge, make tidy, concentric circles of whole berries standing upright. Pack the berries together as tightly as possible, leaving no gaps. If using halved berries, make a ring of them around the outer edge of the tart, cut sides down and pointed ends facing the center of the tart. Continue making concentric circles of the berry halves (you may need to trim the ones used for the center circle to make them small enough).
Raspberries/Blackberries/Blueberries
Arrange whole berries standing up in concentric circles.
Figs
Slice vertically in ¼-inch slices, reserving the end slices for another use. Starting at the outer edge and working towards the center, arrange slices in concentric circles to cover the top of the tart (large end towards the outside edge, small end towards the center). Place each slice slightly overlapping the one before it, and each ring of slices overlapping the small ends of the previous ring.
After the fruit is arranged, re-warm the glaze if necessary and gently apply it to the tops of the fruit (if you try to glaze down the sides of the of the fruit the glaze tends to pool on the tart surface and make soggy spots). Serve immediately. When cutting, it's best to use a serrated knife and a gentle sawing motion to avoid dislodging the fruit.
Tags: almond, berries, figs, tarts