Ultimate Roast Potatoes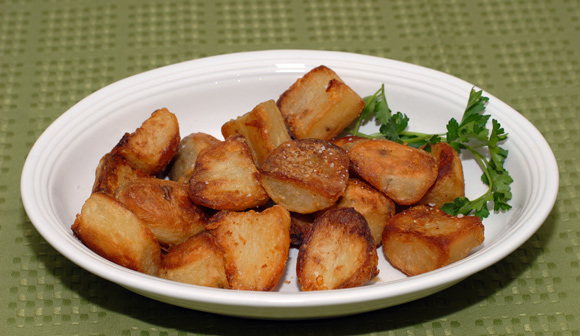 Crisp outside, fluffy inside, roast potatoes are a universal favorite. For superlatively flavorful and crunchy roast potatoes, rough up their exterior surfaces and toss them with a small quantity of flour before roasting, use duck fat as the cooking medium, and serve as soon as they are done — if they sit too long, they become soggy.
— 4 servings
*Items marked in green are available from The Gourmet Corner.
Ingredients
2.5 pounds floury potatoes (russets or other 'baking' potatoes)
3 oz/6 Tb

Rougié Duck Fat

(for a luxurious taste and ultimate crispiness) or

Puget extra-virgin olive oil

(heart-healthy)
2 tsp flour

Maldon flaky salt
Preparation
Put a roasting tin big enough to hold the potatoes in a single layer) and heat oven to 375F.
Peel the potatoes and cut them into even, 2.5-inch pieces. Drop the potatoes into a large pan and pour in enough water to barely cover them. Add salt, then wait for the water to boil. As soon as the water reaches a full rolling boil, lower the heat and simmer the potatoes uncovered, reasonably vigorously, for 2 minutes.
While potatoes are cooking, put your choice of fat into the hot roasting tin and heat it in the oven for a few minutes, so it's really hot.
Drain the potatoes in a colander. Shake the colander back and forth a few times to rough up the exterior of the potato pieces. Sprinkle with the flour, and give another shake or two so they are evenly coated.
Carefully put the potatoes into the roasting pan — they will sizzle as they go in — then turn and roll them around so they are coated all over. Spread them in a single layer, spacing them as evenly as possible.
Roast the potatoes for 15 minutes, then take them out of the oven and turn the pieces over. Roast for another 15 minutes and turn them again. Put them back in the oven for another 10-20 minutes, or as long it takes to get them richly gold and crisp (the coloring will be uneven, with some sides more deeply browned — this is fine). Sprinkle with the Maldon salt and serve immediately.
Tags: potatoes