Mustard-Roast Chicken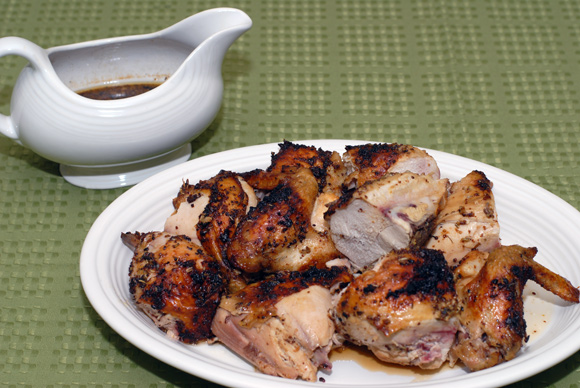 Requiring a mere 30 minutes to roast to crisp-skinned perfection, this recipe is adapted from one by Jacques Pepin. Coating the chicken with a savory mix of mustard, herbs, spices, and wine, then roasting it quickly at high temperature produces a flavorful, juicy chicken, and delicious pan juices. Because the chicken is split and flattened by cutting between the joints of the legs and the shoulders, the cooking time is reduced by half. Serve with a simple green vegetable and potatoes or rice to make the most of the pan juices!
— 4 servings
*Items marked in green are available from The Gourmet Corner.
Ingredients
4-lb chicken
2 Tbs garlic, minced
2 Tbs

Dijon mustard

, smooth or grainy
2 Tbs dry white wine
2 Tbs

Extra-virgin olive oil

1 tsp Tabasco
1 tsp

Herbes de Provence

1/2 tsp

Maldon salt

4 Tbs dry white wine or chicken stock for deglazing
Preparation
Preheat the oven to 450F°. Using poultry shears, cut along each side of the chicken backbone and remove it. Turn the chicken breast-side up and press on the breast bone to flatten the chicken. Using a sharp knife, cut partway through both sides of the joint between the thighs and the drumsticks. Cut partway through the joint between the wings and the breast — this helps the heat penetrate the meat and accelerates the cooking process.
In a bowl, mix all of the remaining ingredients. Turn the chicken breast down and spread it with half of the mustard mixture. Set the chicken in a large skillet skin side up; spread with the remaining mixture.
Set the skillet over high heat and cook the chicken until it starts to brown, 5 minutes. Transfer the skillet to the oven and roast the chicken for 30 minutes, until the skin is browned and the chicken is cooked through.
Let the chicken rest in the pan for 10 minutes, then transfer to a cutting board.
Pour the pan juices into a bowl. De-fat them by adding an ice cube or two then skimming out the congealed fat. Deglaze the skillet with the 1/4 cup wine or chicken broth, scraping up the font (browned bits), and add to the pan juices. Put sauce in a serving dish.
Cut the chicken into 8 pieces and serve immediately, accompanied by the pan juices.
Tags: chicken, garlic, mustard