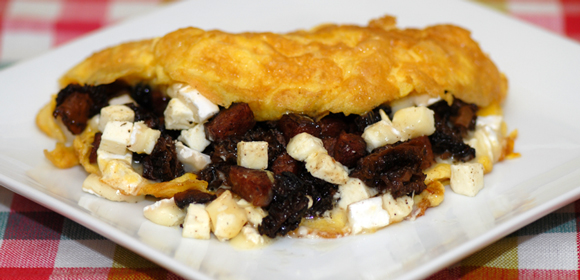 Omelets are good, quick weeknight fare. Stuffed with garlicky French sausage, morels, and creamy cheese, they're also sublime. Coulommiers is a cousin of Brie — made in the same region but with a slightly stronger flavor and a tendency to transform from creamy and solid to unctuously oozy when warmed.
— Serves 2
*Items marked in green are available from The Gourmet Corner.
Ingredients
12 dried morel mushrooms
3 oz saucisse de Morteau or saucisson a l'ail
2 oz ripe Coulommiers or other Brie-type cheese
3 Tb. Échiré unsalted butter
6 large eggs
Preparation
Place morels in a small, heat-proof bowl and pour 1/2 cup boiling water over them. Soak for 5 minutes or until fully hydrated. Remove morels from soaking liquid. Either strain the soaking liquid through a coffee filter or decant as much of it as you can into a clean container without including any grit. Cut morels crosswise into 1/4-inch slices.
Dice the cheese into 1/4-inch cubes and set aside. Dice the sausage similarly.
Melt 1 Tbs butter in large skillet over medium-high heat. Add diced sausage; sauté 3 minutes. Add morels; sauté until tender, about 5 minutes. Add morel soaking liquid and saute until just evaporated. Season with salt and pepper. Remove from heat.
Whisk 3 eggs in a bowl. Season with salt and pepper. Melt 1 Tbs butter in 7- to 8-inch nonstick skillet over medium heat. Pour eggs into skillet; stir with rubber spatula until eggs begin to set, about 1 minute. Sprinkle half of morel mixture and half of cheese over eggs. Cook until eggs are softly set, tilting skillet to cook eggs evenly, about 2 minutes longer. Fold omelet in half; transfer to plate. Repeat with remaining ingredients.