Endive and Pistachio Salad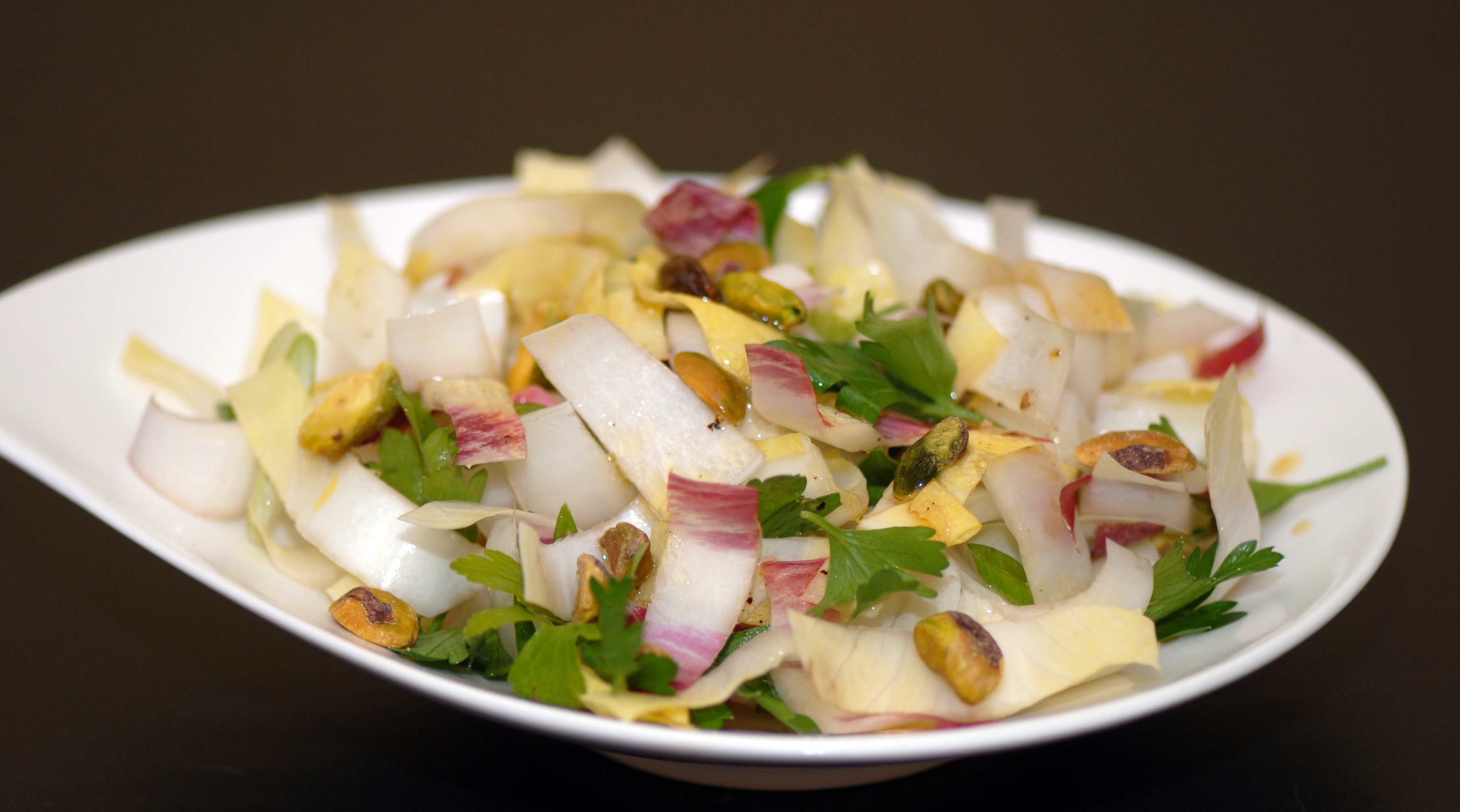 Endive makes a perfect salad to accompany a festive and rich holiday meal. The chopped leaves are light, crunchy, and refreshingly bitter, sparked with a tangy sherry-pistachio vinaigrette and topped with sweet, crunchy pistachios. Compared to other nut oils, pistachio oil has a particularly strong flavor. Its rich, slightly sweet taste complements the bitterness of the endives and elevates the salad to "special occasion" status — or even "is there any more salad?" status. Bon appetit!
— 4 servings
*Items marked in green are available from The Gourmet Corner.
Ingredients
2 Tbs

sherry vinegar

1/4 cup

pistachio oil

1/4 tsp freshly ground

four-color pepper

1/4 tsp

La Baliene sea salt

2 white and one red Belgian endive
4 medium scallions
2-3 Tbs flat-leaf parsley leaves
2 Tbs roasted, shelled pistachios
Sherry-Pistachio Vinaigrette
In a small container with a tight-fitting lid, combine vinegar, salt, pepper and pistachio oil. Cap the container and shake well. Taste the dressing and add salt, if desired. Refrigerate until 1/2 hour before use.
Salad Preparation
Slice the endives crosswise 1/2 inch thick. Lightly toss the segments together to mix the colors.
Pluck the parsley leaves from the stems.
Very thinly slice the scallions diagonally.
On each of 4 salad plates, put a mound of the endive, then scatter scallions and parsley leaves over it. Shake the vinaigrette well to combine, then drizzle over the salads. Sprinkle the pistachios over the salads and serve immediately.
Tags: endive, pistachios, salad