Almond Poires Belle Hélène — Oven-Poached Pears with Almond Filling and Chocolate Sauce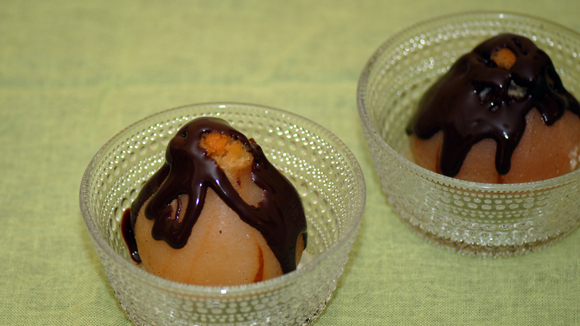 Poires belle Hélène is a classic French dessert of poached pears served with vanilla ice cream and chocolate sauce. This recipe adds a decadent twist by oven-poaching the pears and stuffing each with a luscious hunk of almond paste, then further guilds the lily by adding a dollop of Provence lavender honey to the chocolate sauce, its subtle floral notes enhancing the flavor of the pears. The traditional accompaniment of vanilla ice cream is optional — the pears are delicious without it, or include it to add another layer of flavor and texture.
Bosc, Bartlett and D'Anjou pears all work well, although Bartlett pears should be a little under-ripe or they will turn to mush when cooking. Since most supermarket fruit is sold on the green side, this shouldn't be a problem!
— 6 servings
*Items marked in green are available from The Gourmet Corner.
Ingredients
Oven-Poached Pears
6 ripe but firm small pears (~6-7 oz each)
Juice of one lemon
1/3 cup water
6 oz almond paste
3 Tb (1.5 oz) Échiré unsalted butter
1/3 cup water
1/4 cup sugar
1/2 vanilla bean
Chocolate Sauce
5 oz Cacao Noel Noir 72% calets
1 cup cream
2 Tbs Miel de Lavande (lavender honey from Provence)
Ice Cream
Good-quality vanilla ice cream
Optional special equipment: an apple corer makes it easy to remove the pear centers, but a paring knife will also work.
Oven-Poached Pears
Preheat oven to 350F. Mix the lemon juice with the water.
Peel the pears and and core them (remove a 3/4-inch cylinder from the center of each pear), but don't cut the way through to the base — leave a half-inch "plug" at the bottom. If necessary, cut a thin slice off the bottom of each pear to help it stand upright. After each pear is prepared, dip it into the lemon juice mixture to prevent it from browing. Set pears in a non-metallic baking dish that can snugly fit all 6 pears.
Divide the almond paste into 6 equal pieces, then roll them into cylinders that fit into the core holes and stuff them into the pears. Pour 1/3 cup water around the pears, then sprinkle the sugar over it. Split the half vanilla bean lengthwise and scrape the tiny, fragrant seeds out with the tip of a knife, scattering them over the sugar-water mixture, then place the scraped vanilla bean sections in the liquid. Cover the baking dish with its lid (or foil, if it hasn't got one), and place in the oven.
Bake for 35-50 minutes, periodically basting the pears with the poaching liquid, until pears are just cooked through and can be easily pierced with a toothpick.
The pears can be served warm, or allowed to cool to room temperature.
Chocolate Sauce
Put cream in a small saucepan, heat to a simmer while stirring to prevent scorching. When fine bubbles begin to form around the edge, remove from heat and stir in chocolate calets and honey. Stir gently until completely combined.
Set chocolate sauce aside until needed, or refrigerate for up to 5 days. To re-warm it, put in a microwave-safe container and briefly microwaved on medium-low power until it is the desired temperature.
Plating the Poires
Stand a pear in each of 6 dessert dishes. Drizzle a little of the poaching liquid over them, then a big spoonful of the chocolate sauce. If desired, place a scoop of vanilla ice cream at the side of each pear.
Serve immediately, passing the remaining chocolate sauce at table — there is always someone with a "chocolate tooth" who will be delighted!
Tags: chocolate, honey, pears, vanilla