Summer Pea Crostini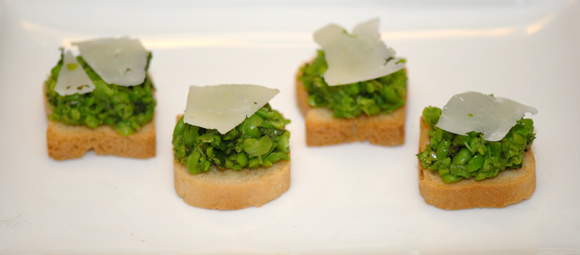 Fresh English peas combine well with all the mint family herbs: basil, mint, oregano, etc. Here they transformed into a chunky puree accented with scallions and fresh mint. The crostini use French mini-toasts as a base — they are fine-grained and lightly crisp, a better complement to the delicately flavored peas than a coarse Italian or French-style bread.
Choose peas with plump green pods, not shriveled or limp. Gently pinching the pod, you should feel a little resistance — if the pod collapses when pressed, the peas inside will be tiny (the peas are usable, but you'll need to buy more of them to compensate for their size). But avoid pods that have shrunk to show the outlines of the individual peas inside: they have started to dry out and the peas will be tough and mealy.
— Serves 4
*Items marked in green are available from The Gourmet Corner.
Ingredients
1 1/2 cups freshly shelled peas (about 1 1/2 lbs unshelled) or 1 (10-oz) package frozen peas
1 Tbs Échiré unsalted butter
2 large scallions, green and white parts finely minced
1/2 tsp La Baliene Sea Salt
1/4 tsp freshly-ground 4-color peppercorns
2 Tbs cup creme fraiche
1/4 cup lightly packed fresh mint leaves
1 package Albatros Mini-Toasts
1-2 oz P'tit Basque Cheese
Directions
In a medium pan, bring 4 cups water to a boil. Add the fresh peas and cook for 5-8 minutes, or just until tender (if using frozen peas, cook 3-4 minutes). Drain and set aside to cool.
Heat the butter in a large saucepan, add the chopped scallions. Cook over medium-low heat for 5 to 10 minutes, until they have softened, but do not brown them. Set aside to cool.
Mash the peas in a medium bowl using a fork or potato masher (a food processor can be used, but tends to make the puree to smooth — it's better if it remains a bit chunky).
Finely mince the mint. Stir the salt, pepper, creme fraiche, scallions, and mint into the peas. At this point the pea puree can be refrigerated until needed, up to 24 hours.
To assemble, mound the pea puree onto the mini-toasts, pressing it firmly to adhere. Use a vegetable peeler to make thin shavings of P'tit Basque cheese, then top each crostini with 1-2 shavings, pressing them down into the puree to adhere. Serve immediately.